How can I get better at composing music? Composing music is a never-ending learning process. But nevertheless, a skill that can be learned. With each composition and every minute spent composing music, you get better. Here are the best books on music composition that you can use to improve your music-writing skills.
The free tutorials and articles from Learning Music Skills are supported by music lovers just like you. When you purchase through links on my website I may earn an affiliate commission while it doesn't cost you more.
Can music composition be learned? So you want to improve and get better at composing music, or maybe you just started learning music composition. There is nothing that can replace hard work and the actual hours spent writing music. But by doing proper research and reading good composition books, you can speed up the process significantly.
Why read books on music composition in the first place? Well, that's an easy-to-answer question. These books give you a detailed look into the process of composing music. Let me ask you a question: why search for all the answers yourself if somebody else has already done the hard work for you? That's right, these books give you an insight into all the tools you need for writing music.
The second reason why you should read some of these books is that you learn to apply music theory in a fun and organized way. The books that are lined up in this article are perfect for music students learning composition with a teacher or individual studies. Because they have great explanations and numerous exercises that you can do to apply the newly learned composition techniques. Here are the best books on music composition lined up:
To make this list easier for you to navigate and read, I have divided the music books into different categories. Also, if you are more into songwriting or music production then I recommend you check out my list of the 12 best songwriting books for songwriters or my list of best books on music production and audio engineering.
Top Picks
Best Composition and Music Theory Book
Check Price
Best Book For Daily Composition Exercises
Check Price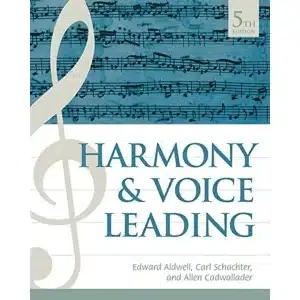 Best Book On Classical Harmony
Check Price
Best Book On Music Notation and Engraving
Check Price
A Must-Read Book For Composers
Check Price
Music Composition Books
Here are the best and most practical books for learning to compose music.
When you think about music writing and composition this is the book that has it all if you ask me. I find it to be the most complete book on music theory and composing music so far. And the best thing is that it has a workbook integrated so you don't have to spend money buying a textbook and a workbook. There are so many things that this book does right. At the beginning of each chapter, you have the learning objectives clearly laid out and at the end, you have a summary and a terminology list followed by composition exercises that have clear objectives and additional useful information. What I also like is that, unlike many other books, the importance of melody is not neglected. So in short you can't go wrong with this book. Here is a short description:
Music Theory and Composition: A Practical Approach presents a pragmatic, accessible approach to music theory through an emphasis on melody and counterpoint. This focus explains the "why" of musical construction more clearly than the traditional approach of beginning with chords. By starting with a single melodic line and gradually adding voices in counterpoint, the book drills part-writing while simultaneously explaining functionality, first with scale degrees and then with harmony. The text has students learn musical techniques and progressively build on their functions and importance to create their own compositions.
I love this composition book. As a professional composer or as a student you need to practice your skills every day. Even if it is just for a minute. 'Composing with constraints' is one of the best composition books out there. With these practical and challenging exercises, you can practice your craft. You can also use it to explore new techniques and boundaries in your music composition. This book can be used for private use and individual classes, or in a group with a music composition teacher. In any case, I cannot recommend this book enough! Here is a short description:
Composing with Constraints: 100 Practical Exercises in Music Composition provides an innovative approach to the instruction of the craft of music composition based on tailored exercises to help students develop their creativity. When composition is condensed to a series of logical steps, it can then be taught and learned more efficiently. With this approach in mind, Jorge Variego offers a variety of practical exercises to help student composers and instructors to create tangible work plans with high expectations and successful outcomes.
This is my favourite music composition book. Hands down. I love the fact that it is to the point and has many interesting exercises. The great thing is that this book will be a good fit for people who are just learning to compose music. But also for more advanced composition students looking for a refresher. William Russo did an outstanding job making this book and it is highly recommended. Here is a short description:
Aimed at those who have some knowledge of music but not formal training in composition, this concise introduction to composing starts right in with a brief composition exercise, then proceeds step by step through a series of increasingly complex and challenging problems, gradually expanding the student's musical grammar.
Alan Belkin is well-known in the online composition, orchestration, and music theory community. He is an excellent teacher and creates high-class and information-rich videos on any music topic you like. I have been following his content for many years now and it is a valuable resource for music composition. Here is a short description of his book:
This essential introduction to the art and craft of musical composition is designed to familiarize beginning composers with principles and techniques applicable to a broad range of musical styles, from concert pieces to film scores and video game music. The first of its kind to utilize a style-neutral approach, in addition to presenting the commonly known classical forms, this book offers invaluable general guidance on developing and connecting musical ideas, building to a climax, and other fundamental formal principles. It is designed for both classroom use and independent study.
Arnold Schoenberg does not need an introduction I assume. His music and also his writings on music composition and music theory are a staple of Western music history. His book the fundamentals of musical composition is a very interesting read and there is much to learn about music composition. I definitely recommend that you have this one on your bookshelf. Although the content might be somewhat outdated and less suitable for modern composers, nevertheless it is an invaluable resource. Here is a short description:
Fundamentals of Musical Composition represents the culmination of more than forty years in Schoenberg's life devoted to the teaching of musical principles to students and composers in Europe and America. For his classes, he developed a manner of presentation in which 'every technical matter is discussed in a very fundamental way so that at the same time it is both simple and thorough'.
This book is not about writing music as in music composition techniques, but it should be on any composer's desk nevertheless. Why? Well because without proper music notation, your music might not be performed properly and also it can look amateur if your notation is incorrect. The book behind bars by Elaine Gould is a masterpiece. It is the best book on music notation. Here is a short description:
Behind Bars is the indispensable reference book for composers, arrangers, teachers and students of composition, editors, and music processors. In the most thorough and painstakingly researched book to be published since the 1980s, specialist music editor Elaine Gould provides a comprehensive grounding in notational principles.
Songwriting Tips and Music Theory For Composing Music
If you want to learn more creative composition and songwriting techniques and also hear them in action, then check out my video tutorial playlist called: Songwriting Tips & Music Theory for Composing Music. Or check out all the educational music videos and articles on this site.
Harmony Books
As a composer, the topic of harmony is one that you probably have a strong interest in. And rightfully so. Harmony is an indispensable music theory topic that each composer should be able to master. Here are my main harmony books for music composers.
The mother of all harmony books if you ask me. I used this book extensively during my years at the faculty. And I still reference it frequently. The book "Harmony and Voice Leading" is more for classical music-oriented people but don't let that discourage you. This is a book that will last you a lifetime. Here is the description:
A clear and accessible volume spanning the entire theory course, HARMONY AND VOICE LEADING, 5th Edition, begins with coverage of basic concepts of theory and harmony and moves into coverage of advanced dissonance and chromaticism. It emphasizes the linear aspects of music as much as the harmonic and introduces large-scale progressions–linear and harmonic–at an early stage. In the fifth edition, starting with Unit 4, the upper- and lower-case system of Roman numeral analysis has been incorporated to facilitate students' recognition of chord quality.
I think this is a relatively unknown book since I don't see it on any lists online. But it is an amazing resource. Not only does this cover the topic of advanced harmony in a thorough manner, but it also touches ground on music composition techniques. There are countless examples from musical scores to go along with each harmonic technique. Of course, keep in mind that this book is from the early 1900's so the word modern seems a little outdated. Nevertheless, it is an inspirational read!
The Musical Modes: Melodies & Chord Progressions
If you want to learn more about modal harmony and modal melodies then check out my video tutorial playlist called: The Musical Modes: Melodies & Chord Progressions. I guarantee that these videos will leave you with some new music composition idea's that you can try out while writing music.
Interesting Books For Music Composers
Composing music is not only about learning music theory and doing exercises. It's also about staying informed and inspired. Music history and the working process of other composers can be very inspiring and educational. Here is my list of inspirational and interesting books for composing music.
This book contains enough information and a music listening list for a full music composition bachelor's study. The book 'The Rest Is Noise' is a detailed overview of modern music history. Alex Ross masterfully takes the listener by the hand to the different continents and musical styles and times. I cannot recommend this book enough. And when you're finished reading you can check out his other book which is called "Listen To This". Here is a short description:
In this sweeping and dramatic narrative, Alex Ross, music critic for The New Yorker, weaves together the histories of the twentieth century and its music, from Vienna before the First World War to Paris in the twenties; from Hitler's Germany and Stalin's Russia to downtown New York in the sixties and seventies up to the present. Taking readers into the labyrinth of modern style, Ross draws revelatory connections between the century's most influential composers and the wider culture. The Rest Is Noise is an astonishing history of the twentieth century as told through its music.
Steve Reich needs no further introduction I assume. His music is/was groundbreaking and has been part of the foundation of today's classical music and film music. Also, many pop artists, songwriters, and producers are inspired by his works. During my first year studying music composition at the music faculty, I read his book 'Writings On Music'. It was extremely educational and inspiring. He talks about how he composes music and gives all his 'composing secrets' away. Absolutely amazing. This book comes highly recommended. Here is a short description:
In the mid-1960s, Steve Reich radically renewed the musical landscape with a back-to-basics sound that came to be called Minimalism. These early works, characterized by a relentless pulse and static harmony, focused single-mindedly on the process of gradual rhythmic change. Throughout his career, Reich has continued to reinvigorate the music world, drawing from a wide array of classical, popular, sacred, and non-western idioms. His works reflect the steady evolution of an original musical mind.
Ton de Leeuw is a famous Dutch composer and pedagogue. He was a student of Olivier Messiaen and his music is a profound synthesis of eastern and western music. His book on music composition is a wealth of compositional techniques throughout modern music history. For any composer seeking more depth and advanced composition techniques, this book comes highly recommended. Here is a short description:
Ton de Leeuw (1926-96) is probably one of the most influential composers at the crossroads between Eastern philosophy and Western technique. A one-time pupil of Olivier Messiaen's in Paris, throughout the latter years of his musical career he concentrated on the marriage of Western emphasis on action and tension, and the ethical function of music in Eastern traditions.
The musical world of the twentieth century is a divided one. Numerous histories of it have been written, but few of the exceptional quality of de Leeuw's, who brought into his writing a lifetime of experience as a composer and scholar of music. His work is a lucid and impassioned discussion of the elements, structures, compositional principles, and terminologies in modern music that can be regarded as the most innovative. This book is an excellent guide for anyone wishing to gain knowledge of the compositional technique and mentality, particularly university and conservatory students.